While having to establish a strong online presence for your e-store is first step; setting the ball rolling in terms of sales and revenue from this store is the one that follows. Today a slew of online businesses have mushroomed all over the web with ample scope for growth for each one of them. Consumers are spoilt for choice with a wide number of options available for a particular type of product and hence tilt towards the best deal in terms of pricing for an established quality. The challenges of selling online are seemingly endless, is it not?
As we proceed in this direction, consider a bit of an insight into an effective product bundling strategy which can bring significant profits on online sales and that over a gradual time period. Selling multiple products under a single umbrella simply means working towards greater initial return on the costs of acquiring a customer. Being able to package different or related products for a particular price as a single selling item forms the core of this kind of product marketing strategy. Some companies work on bundling products as a means to sell the less popular products with those that are high on sales as a means to push away the stock lying therein. It is also possible for businesses to create longer-term business opportunities for add-on sales where in you get multiple products onto your customer's hands. From the point of view of a customer however, it is always preferred to achieve a cluster of satisfying products through a single purchase. Assuming a customer has multiple needs and the product bundle you thus market addresses most or all of them, it works completely to the advantage of the customer.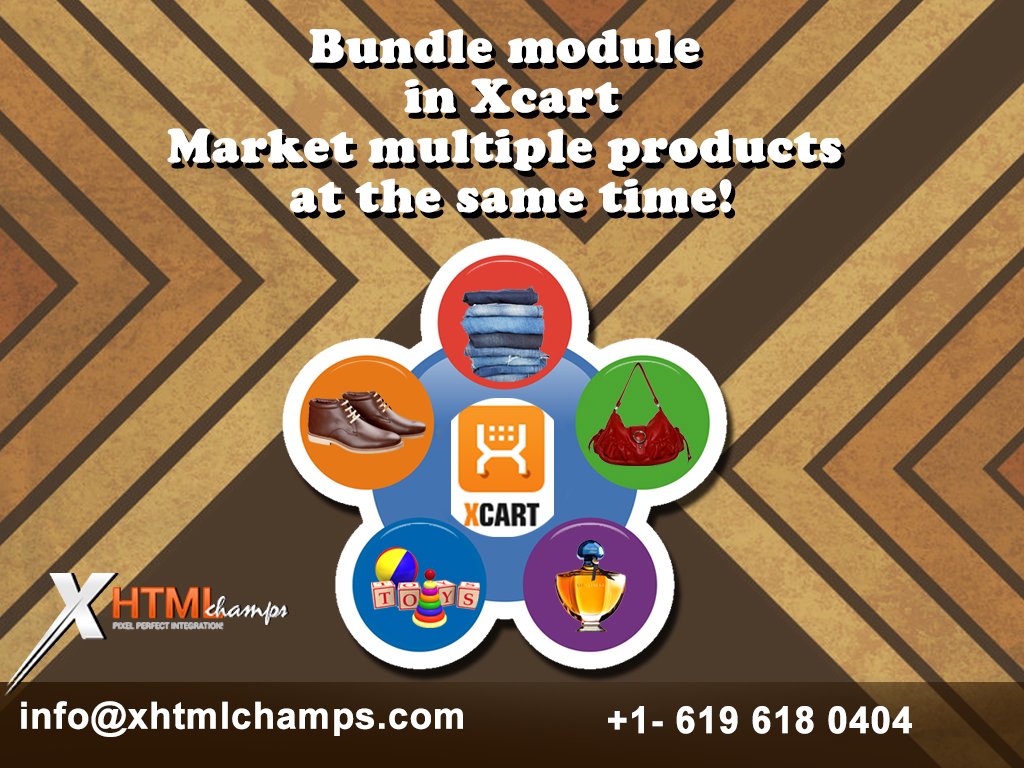 Let us begin with first your choice of an ecommerce platform, in the same context we shall proceed to discuss about how conversion into Xcart works to complement such a product marketing strategy for your business.
Highlights of Xcart as an effective ecommerce cart for your online store-
100% PCI-DSS compatibility for payments means that this certified X-Payment software allows payments via credit cards on your online store; it is integrated with multiple popular gateways and shipping carriers alike.
A W3C-compliant storefront end and a layout based on CSS with several professional e-commerce design templates paves way for easy customization.
Search engine friendly codes with permission to add meta-tags define custom titles, mention URLs for products and relevant category pages.
Installing X-Cart does not warrant great programming skills /knowledge; it comes with the smarty template engine and a simple PHP code. These work on a unique storefront design with custom-made functionalities for a strong online presence!
There is a generous amount of marketing tools such as coupons, banners etc.
X cart powered e commerce sites are mobile ready thus helping you embrace a growing mobile web technology!
All this being said, let us get to the core of our very discussion – details of how the following unique feature helps in the concept of bundle product or the product package selling strategy-
Bundle module for X-cart-
From the point of the admin-panel in the software the following are the details that need to be noted- a step by step guide.
Easy creation of a field for a new product and enable the bundle feature for it.
Selection of products to be included as a bundle.
You may now define the number of products to be displayed as well as bundled under each type
Here you may proceed to choose the product bundle price to be the price of all products in the bundle with an addition or subtraction of an absolute currency amount or percentage. Alternatively, you may also set the price to be the one you setup for that particular bundled product in the instance of not wanting to change the price depending on the price of individual products in the bundle.
Easy to enable or disable a product in the bundle.
The quantity of stock in each items in the bundle are deducted as well as a deduction for the bundled product when the customer opts to check out.
From the customers perspective-
Customer view of the particular bundled product allows him to select any product option.
Upon customer request to add to cart, the bundled product so chosen is displayed with a clear indication of the items in the bundle as well as with links to each individual product.
Upon complete checkout, the invoice clearly displays the bundled product with details and indication of all items included in the bundle.
Packaged selling is a win-win strategy for the business as well as for the customer; it is up to the enterprise to choose the right categories of products to be bundled and a relevant pricing for the bundle thus arrived at. Adoption of this marketing strategy combined with a dynamic ecommerce platform such as X-cart extending support in terms of its bundle module, your online shop will assure you resounding success!