"Xhtmlchamps has come up with exciting Independence Day Special Offers and Discounts on Web Design and Development Services. Here is your chance to get quality web development services for your business. As the demand of excellent websites is increasing in the market, companies are now eyeing for responsive websites"

Press Release, Hyderabad, India on 10th Aug 2015:   A website is the face of the company on the internet and thus it should be strong, effective and attractive. A good website keeps the users engaged and thus they stay on the website for long.  If you want to excel in your business or if you want your products and services to be showcased on the search engines through wonderful websites, then you need to avail the finest Web Design and Development Services. You need to hire a company which is experienced, well established and reliable. This discount offer begins today i.e. August 10, 2015 and continues till August 20, 2015.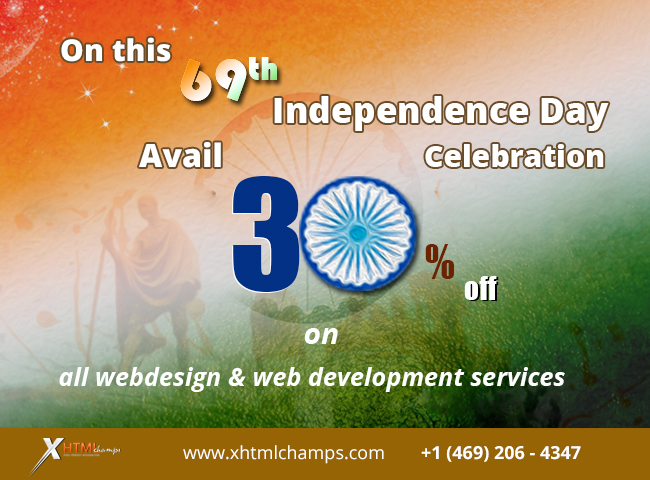 For those who are low on budget, we at Xhtmlchamps offers reasonable packages and huge discounts. So, you can get your dream website developed by us and we promise you to offer the best of our services.
For each and every company today, whether it is already established or a start up, a website is a must. And the Independence Day Special Offers and Discounts on Web Design and Development Services by Xhtmlchamps will do the work of icing on the cake. Get a website developed at reasonable rates for your business and save your money.
 Popular services that Xhtmlchamps provides are as follows:
•     Responsive Web Design
•     WordPress Theme
•    Joomla Template
•     Modx Template
•    Drupal Theme
•    Magento Integration
•    Zencart Integration
•    Virtue Mart Integration
•    XCart Integration
•    Prestashop Integration
•    Oscommerce Integration
•    Shopify Integration
*   Psd Conversion Services
*   Psd to HTML Conversion
Xhtmlchamps is known for their professional Web developers who deal with developing quality website and maintaining it too. The web developers develop websites as per the requirements of the clients. They employ various effective tools like Asynchronous JavaScript, HTML, flash, etc. for developing and maintaining the websites.
A Key strength of XHTMLCHAMPS includes:
•   Quick processing of all projects
•   A team of proficient and qualified developers as well as web-designers
•   Full-fledged client assistance as well as technical support
•   Customized solutions for all customer requirements
There are a number of website development companies that are offering services to numerous companies and organizations by providing them space on their server and also internet connectivity. One of the major features which attracts companies and organizations to this website hosting service provider is the cost. The price of these spaces is very reasonable. Thus, the business of hosting websites is becoming very popular and more and more companies and organizations are reaping the benefits of these sites.
About Company
Xhtmlchamps has been quite popular amongst the customers because of the high quality Web Design and Development Services it offers to its clients. Some of the finest professionals in these sectors are here to help you. It provides effective Web Design and Development Services and that too at low cost.
To understand more about our company, you can take a ride through the past projects, successfully delivered by us. Just log onto our website and you will find the projects which prove our specialization and talent. Our customer's feedback is our tool to let people know about our strength and abilities.
Media Inquiries:  Xhtmlchamps
Email: info@xhtmlchamps.com
Call: +1 (469) 206-4347
Skype: xhtmlchamps
Facebook: facebook.com/xhtmlchamps
Twitter: twitter.com/xhtmlchamps
Blog:  http://www.xhtmlchamps.com/blog/
WebSite: xhtmlchamps.com