Online shopping has certainly made a lot of our lives simpler; a click is about all that we require for to fulfill any of our need. Apart from basic attributes available in the website in terms of the products thus marketed, it is the presence of the right shopping cart software catapults the online store towards its core objective, I e boost online sales.Greater the sophistication of your online portal without compromise on user experience, more popular your site gets thus giving you a solid virtual stronghold. In this light, PSD to Oscommerce has made waves in the world of shopping cart software for aspiring online portal, let us look at some major advantages that oscommerce fetches your website as we proceed.
Oscommerce in a nutshell- some note-worthy benefits

Oscommerce is a shopping cart software that can effectively function in any web server that is equipped with PHP and MySQL. The biggest advantage of oscommerce has apart from being free to download is the fact that it has grown to become an extremely trusted shopping cart supported by an extensive group of users. This ecommerce platform actively facilitates customization of your online store by means of providing multiple tools including templates, themes, add-ons etc. Oscommerce development services, reassures storeowners with a secure, stable as well as user friendly transactions in their online store. There are over 260,000 stores that have moved their stores online using the osCommerce development; with varied osCommerce customization for high-level of sales or leads thereby working on increasing the store's conversion ratio. This shopping cart software is a versatile business tool which supports any kind of online store. Consider the following advantages it offers-
Transform your existing files into completely cross browser compatible as well as search engine optimized osCommerce themes & templates, a highly professional ecommerce website is up and running in no time.
There is a wide range of credit-card processors and shipping services that are supported by this platform – greater the payment options available- more advantageous it gets for the user.
It makes use of an indexed database that can handle a large number of products, a boon for a growing business indeed.
A standout advantage provided by this platform is that is that if in case your hosting company does not install osCommerce it is still possible for you to do it by your own self or arrange for it be installed. Installation gets as easy as that.
Despite being free to install osCommerce gets even more competitive than most expensive commercial shopping carts.
To re iterate, a large number of add-on modules more add ons in development gives growing businesses an edge in terms of flexibility and changes to be made in the portal as and when needed.
The edge- Oscommerce paves way for integration of your website with eBay!
Now most online stores sort of hitch-hike rides on virtual market places such as ebay.com, amazon.com for product visibility. Now the direct and most obvious reason for this is the kind of reach these giant virtual stores have with the user community purely in terms of the detailing on any kind of product they provide. Now you may find ten kinds of the same category, competitive pricing and product reviews in these sites, so even if you're relatively new to ecommerce scene eBay is probably a name that you may instantly identify yourself with.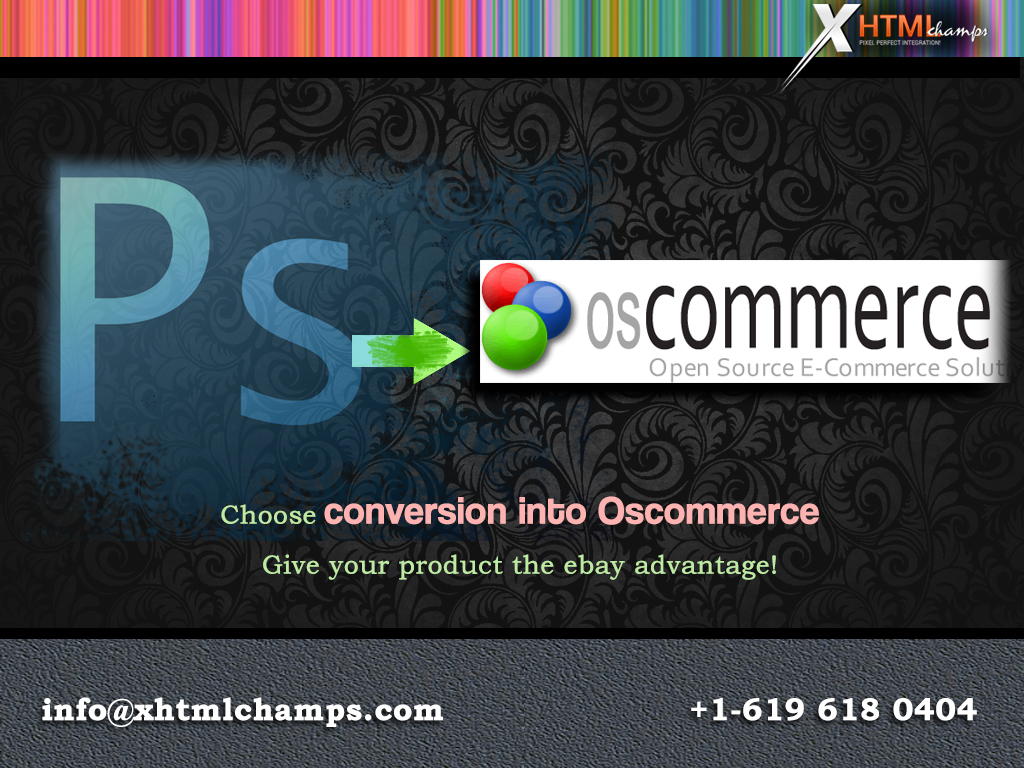 Purely because of its huge market share, eBay is one of the most popular platforms chosen by merchants as a supplementary online retail channel for its access and ability to market to a potentially large audience. There has always been an unseen demand amongst osCommerce store owners to advertise their product catalogue on eBay but have been directionless on this for some time now.
Enter Ebay integration for Oscommerce.

eBay Integration is basically a Store Manager for osCommerce, an add-on which allows you to simply export your osCommerce products from your online store onto eBay. Given the flurry of activities that happens on an average daily on a given online store, it is virtually impossible to export products onto eBay? Ebay integration add on is that comprehensive tool will help you market your products easily on eBay via the Store Manager for osCommerce, installed on your computer. You will be able to export entire product list along with detailed product descriptions and prices directly from your online store to eBay, any change you make to the product will automatically reflect in eBay as well. You can easily choose any option auction type, price formulas, region and other settings in a quick and timely manner.
You may require to note that Addon will require Store Manager for osCommerce. So as to begin work on this ebay Addon all you will need to do is register on eBay and create a relevant developer account.
For complete details on installation, costing and integration you may want to look up the following link http://store.emagicone.com/ebay-integration-for-oscommerce.html.
Power your online store with Oscommerce, witness product sales and soaring revenues like never before!