For designing an efficient website to employ with content management system and front-end user satisfaction, choosing the web development software takes the main role. Java and its other modules and software are available for programmers to build a website with the user interface and user-experience characteristics. JQuery is a library of featured Plug-ins that can be used javascript coding while developing web applications.  As JQuery provides so many benefits to the users, it is used by developers to add the specialized features and resources in web application interfaces.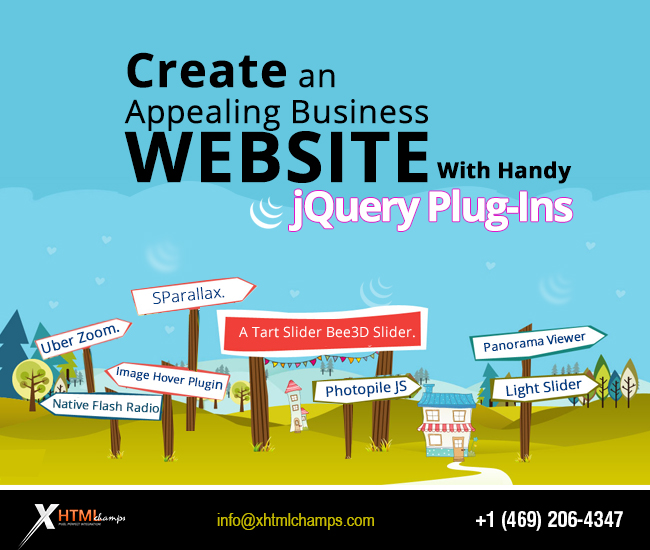 Add the functionalities, according to the requirement
There are many plug-ins available in JQuery platform, offering features to update the contents of a website. A programmer can set the visual contents of a web page, by selecting different modes and features of JQuery items in Javascript.
Top 10 JQuery Plug-ins for Web Designers are listed below:
(a)  SParallax is a JQuery plug-in to create a responsive element to a native scroll bar applied with a transition effect. It creates a parallax effect, to the elements that are beyond the user's imagination.
(b)   Uber Zoom is plug-in available in JQuery, that provides responsive features and touch gestures for native iOS or Android applications. Zoom and pan facilities for images are provided along with natural animations and thumbnail navigator.
(c)   A Tart Slider plug-in is available for creating JQuery HTML5 sliders that look like the group of Tarts. Tarts can be added or deleted, without breaking the structure with its original design. It is used on JCanvas content in a web page with a lot of images and settings.
(d)   Bee3D Slider is a floating 3D slider, carousel and a touch enabled plug-in to create touch-friendly and fast sliders with 3D effect. It creates a customizable and parallax ready object.
(e)    Adipoli JQuery Image Hover Plugin.    Adipoli is a free to use JQuery plugin that helps to create super stylish image hover effects. Another interesting feature of this plugin is that, you can turn images black and white, implement pop out, slice and box transitions.
(f)    Native Flash Radio allows creating HTML5 MP3 Radio with FM stream plug-ins that are compatible with all types of devices and browsers. It allows both; creating a standalone website internet radio player and also weaves cross platform radio streams into your web pages.
(g)   UserPickerForm is a plug-in that allows creating forms with specially animated inputs and elements on a web page. Special effects with animations such as auto-complete input the mail or name list, browsing the list with animation, coloring the elements with (blue and red), deleting the elements with backspace key etc, can be implemented.
(h)   Light Slider is a responsive content slider that can be created with thumbnail navigation. It allows adapting the application of any type of device and automatic operation facilities.
(j)   JQuery Panorama Viewer plug- in very powerful to create a panoramic view of the image on the website.
(k)  Photopile JS is a JQuery plug-in that simulates a pile of photos scattered on a surface. Thumbnails are used to remove and enlarge them when clicked and returns to the pile on the second click.
In addition to these Top 10 JQuery Plug-ins for Web Designers, many resources are also available that are updated with recent modifications for JQuery users.
Availing several plug-ins efficiently, programmers can develop various effects such as special effects, different styles, multiple interfaces for the page contents etc.These plug-ins are used by a web programmer for creating a user-friendly and stunning website.