There are possibly thousands of blogs being added to the blogosphere every other day, and the numbers are staggering and it is still slated to grow further. Do you believe in a blog which is just a repository of information which simply pops up when someone comes looking for it in specific or in the one that comes alive with related searches? It does make complete sense in a blog that is interactive visible, one that climbs up on popularity; in short you want to make your blog work for you! So where do your begin.
A blog rides on content and content alone; a sound blog is one that which is rich in unique content and that which reaches out to the mind of visitor. It is this trait in a blog which primarily drives traffic towards it. Disallowing your blog to stagnate and ensuring that it is frequently updated with useful content is the fundamental to building your blog's audience. Over and above conversion from PSD to Word press which helps you build a feature rich blog; it is also important to recollect that it is essential for a blog to remain dynamic and accommodate changes along with changes in technology or business environment.
Focus of Word press on blog functionality- Jetpack.
Word press as a content management tool comes with a primary advantage, as much as it is simple and easy to install it actively supports extension of the functionality of your blog to accomplish almost anything. Worpdress .There are over 15,000 plug-ins available for WordPress supporting extensive additional functions that can be added to your blog. Now it is extremely difficult to pick and choose each one of these plug-ins individually and incorporate it in your website. Jetpack is a free bundle of all great features together function as part of a single plugin, and therefore you may rest assured that they can in harmony alongside on your blog-site.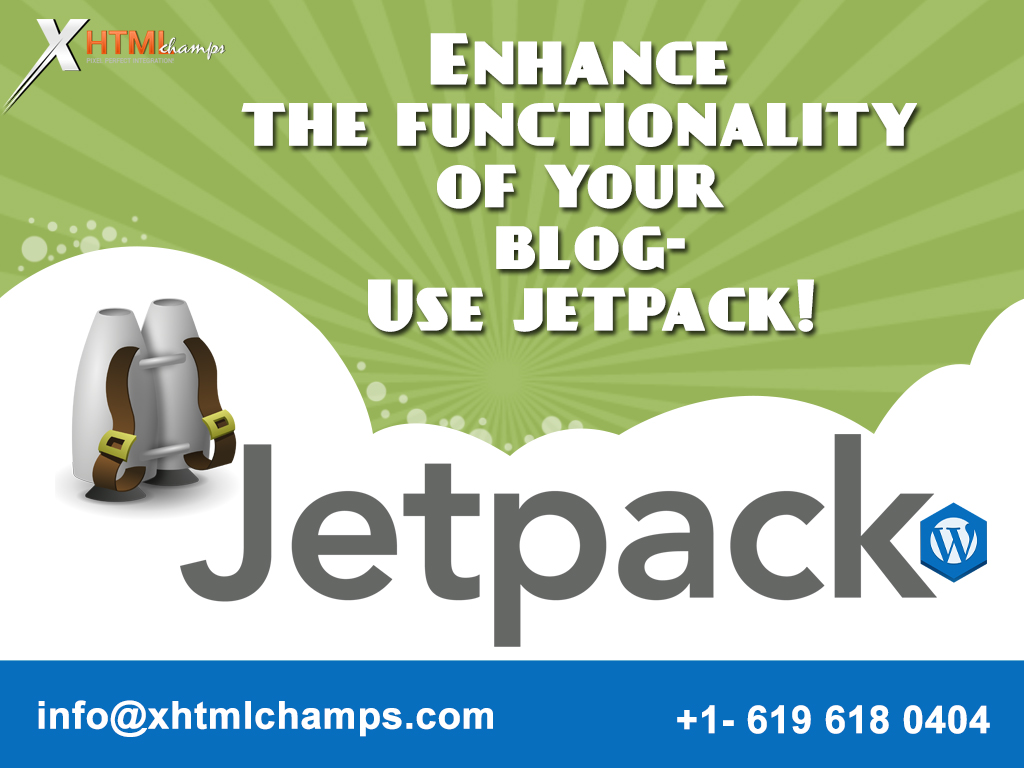 The introduction of this plug-in module was to further provide word-press sites with a rich set of functions; as a bundle of exhaustive Plug-ins can be integrated and while still be subject constant updates along with each new version of Word Press. Jetpack is a product of Automattic, the same company backing WordPress.com, they also contribute heavily to the WordPress software. Their codes are of superior quality, with developers open to feedback and work with the needs of word press users in their minds!
So what exactly does Jetpack bring to self-hosted Word Press sites? You may want to have a look of some major plug-ins that are part of Jetpack now:
WordPress.com real-time stats – It is extremely simple, concise site stats which does not impose any additional load on your server.
Social Media Sharing – This highly relevant plug-in helps you share content with Face book, Twitter, and many more social media sites.
Spell and grammar checking – This is fundamental to any content based site, it adds spell, style, and grammar checking while you edit your work.
Twitter integration – This plug-in helps you display the latest updates from a Twitter user inside your theme's widgets.
Gravatar Hovercards – This is quite an interesting app which shows a pop-up business card of your users' profiles in comments made on your blog.
Shortcode Embeds – What is a blog without dynamic content such as videos and photes? This app helps you easily embed videos and links from sites like YouTube, Vimeo, and SlideShare.
Shortlinks – This app provides you with short links for all of your Posts and Pages for easier sharing among the user community.
In short the Jetpack plug-in is a huge bag of goodies which makes work quick on all that you need on your website- In short. Jetpack will also help you-
Completely review your site traffic, which is crucial on the performance aspect.
User subscription to comments is allowed.
Also help you insert a basic contact form on your site.
There are a lot more within Jetpack and an equal number in the offing; now these features can be turned off or on depending on what you feel is relevant for your blog. Jetpack indeed super charges your wordpress blog; you may want to look up in here for more detailed discussion on this plug-in https://wordpress.org/plugins/jetpack/ .
An evolving technology if not tapped to advantage exposes your website to stagnation and reduces it to a static page with obsolete information. The purpose of a blog is to reach out to a potential audience, power your blog with all that it takes to do just that!