Building a professional website is not that much tough, but a bit difficult. Generally visitors' find a website for many purposes and stay on a website for different reasons, due to them a business, an organization or an individual should build a website so that it can attract more visitors and boom the business.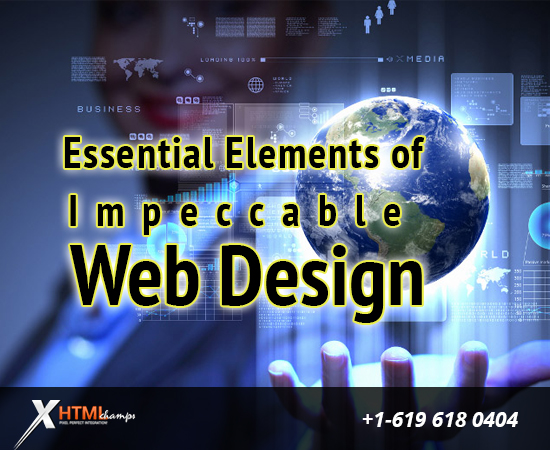 Discover the Essential Elements of Flawless Professional Web Design
Today's age is the age of information technology where a business whether it is a small, medium or a large one cannot think to launch or promote its business without a professional Web site. Learning how to make a powerful as well as a professional website can be very tough, but possible to do step by step, due to this reason so many business proprietors turn to professional web designers to manage their online presence, to promote their businesses in the long run in this highly competitive business world.
Essential Elements of Great Web Design
In today's highly competitive and fast paced business environment, professional web design plays a significant role to build an online presence. Consumers generally want to find the information they want to get easily and quickly. They naturally do not want to jump by way of hoops to get there. Here in this article, we have discussed some essential elements of designing a website to attract more visitors. Let us have a brief look at it.
(a)    Design Your Website to Attract More Audience: – Nowadays one can build a blog or a good website with the help of some easy website templates which are widely available online. And, almost everyone has a website up within a few minutes, but that is not good for a booming business. You should understand and analyze your target audience, why they are coming and from where they are coming to your site and due to the reasons you should build a sleek,  website with plenty of informative content which can easily draw your hip of the audience to browse.
(b)    Easy to Navigate: – At the time your visitors or customers are landing on your website, they should be able to find out what they are seeking within a few seconds. You should keep in mind that the pages should be easily accessible for visitors. For instance, making a drop down menus, about us, Contract page, buy buttons etc.
(c)    Good Website Design should be Professional and Consistent: – You should design your website properly, from the background to the titles of individual pages, as you know consistency is the key to your success. Some tips are, use the same colors, choose appropriate graphics, watch out for fonts etc.
(d)   Try to Keep Your Website Simple and Sweet: – Your website can be simple and easy to catch up in flash screens; fun widgets as well as attracting images can be great. Some tips are: Offer content at a glance, Keep your grid pattern properly, stay easy on one sight etc.
(e)   Keep in Touch: – This feature goes an extra long way to engage customers to your online business. So your website should retain visitors for a longer period of time.
(f)   Minimize the loading time: – Try to minimize the loading time of your website so that your visitors may not wait a longer period of time to access your website. Though a professional website generally takes time to load, you should minimize the loading time by reducing the technical difficulties so that your visitors may not wait long and bounce to other similar websites.
Learning how to make a professional website generally means providing what your visitors or consumers want to get in the simplest as well as the cleanest way as possible. If you build it professionally, you will surely reap the rewards.