WordPress is popular online website publishing software which is widely used for personal management of a website or by larger companies. At first, it was used maintain blogs, but now it became a web development software with so many resources. As it provides easy to use and understandable options for developing a simple to the complex web site, the web developers follow the application very largely.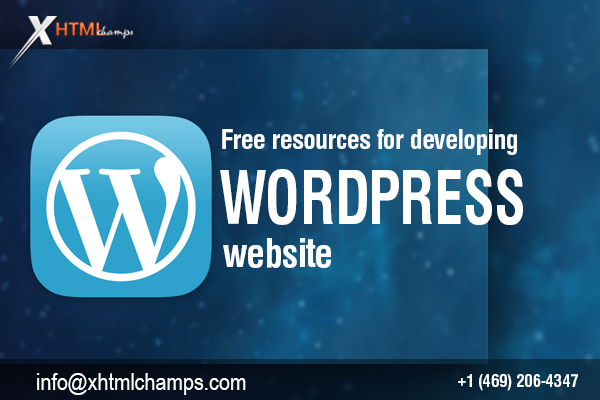 Provided with the Open source content management system (CMS), WordPress is the choice for building a customer-friendly website. WordPress is easy to learn, write web pages, and maintain them with a good administration of web hosting. Creative and extraordinary sites can be developed within the very short span of time using WordPress by the front-end developers. Understanding free resources for developing a WordPress website supports creating well managed CMS managed a website. Many online tutorials are available to learn the WordPress advanced coding system easily. Flexible coding techniques facilitate the developer for creating a tremendous website.
Take advantage of using free resources provided on WordPress platform
So many resources are available within a WordPress platform that is helpful for designers and developers. The programmer can use them according to the requirements in the web pages. It is called a theme framework of WordPress using different plug-ins and resources.
Smashing Magazine is very helpful resource for the developers to know about each and every resource of the WordPress platform. It is a company online website that provides complete assistance for the beginners. Digging into WordPress is a published content that enables the developer to assist with its books and blogs that explain reference information about coding facilities.
The Theme Design Gallery is available to use a particular theme for the web page display. The overall control in coding the individual contents of the page is done by the developer. But the snapshot of the theme is included with related plug-ins. Templates are provided that can be easily dragged and dropped an artistic theme from an extensive collection of themes.
Many numbers of hosting providers are available to work online for a well developed WordPress site. These can be used to the hassle-free management of a website such as eCommerce sites.
WordPress Blogging Apps and Software such as Blogo, Writeroom, BlogPadPro, and much more are helpful tools and editors for creating professional web applications.
WordPress Plug-ins contains powerful free resources for developing WordPress website with easy to use pre-coded items. Page builders, forms, tables, videos, and multiple management tools for a user interface website are available in this.
WordPress security and backup services are compulsorily used resources for maintaining transactions of a website with complete security to prevent attacks and follows scanning facilities.
WordPress Email Management Tools are used to maintain customer relations and email marketing. WordPress tools and resources are helped to find perfect coding methods for a website with interactive proposals.
Using WordPress Search Engine Optimization Tools is advantageous to maintain, optimize headlines and main topics of the contents. Best marketing methods are applicable for controlling the site that leads to the main traffic of a search facility.
Employing all resources of WordPress emerges the finest development process for a website. They are used according to the requirement and coding methods.
Using all free resources for developing a WordPress website is advantageous for building a perfect website with the user interface. Methods of content management system are used very efficiently with the help of WordPress apps and resources in efficient manner. Required plug-ins can be attached and used to perform various interactive operations in a site.