Joomla has evolved to be one of the most widely used content management systems specifically used to build large and complex applications for businesses today. It is characterized by its scope of applicability ease of use in websites.  Trends indicate that smart smaller companies, organizations began deploying Joomla on their websites; it has slowly gained popularity thus paving way for larger conglomerates to begin considering conversion into Joomla for their websites.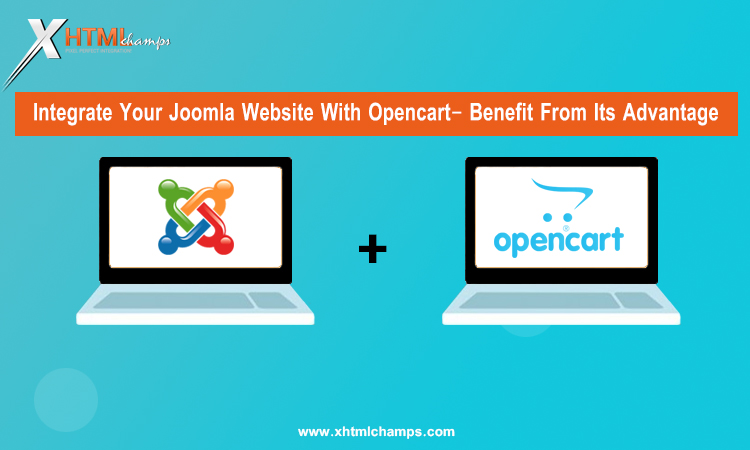 So what is Opencart? What are its features?
Open Cart is an open source shopping cart solution based on PHP/MySQL platform in the same lines as zencart. It was however developed to be an affordable, user-friendly and a comprehensive and capable piece of ecommerce software. OpenCart aims and providing a much more overall more intuitive as well as a well-designed user-interface supporting a greater range of extensions ; little in contrast to zencart which had more built-in functionality. It is a turn-key ready shopping cart solution; which just requires you to install, choose a required template, add products and you are ready to plunge into business! As easy as that.
In a nutshell, choosing OpenCart would prove extremely beneficial to ecommerce business owners who are just about stepping in to mainstream virtual business; it would cover all the minimal requirements for the website with no additional figures and frills to begin with. The biggest costs for deploying open cart in your website will however fall on web programming resources / extensions which may be required for additional functionalities as the website begins growing.
Broadly, the following are some highlights you may want to note-
Open cart is an open source PHP platform – subject to constant evolution for the obvious reason!
As discussed the vanilla version of the script does not have too much functionality; it however supports a huge range of plug-ins.
The script architecture of open cart is based on a model called MVC (Model-View-Controller) and the script is XHTML compliant as well.
Due to the absence of built in functionalities in Open cart; it reduces the pressure on the server's RAM. Needless to say including too many plug-ins would eventually lead to a drop in speed / overall efficiency of the website.
Clear cut and easy administration panel is one of the biggest advantages of OpenCart.- Open cart may not be as advanced as a lot of other shopping cart tools but it indeed is a wiser choice for the first-timers.
Your options as you attempt to integrate your joomla website with Open-cart?
So how do you proceed with OpenCart integration with Joomla ?At the moment there are two options that you may want to make note of. The first one will require advanced PHP programming skills / time you will wind up customizing a shopping cart or CMS on your own which may or may not address your needs. The other sensible way out would be to use an existing Joomla shopping cart which combines Joomla/OpenCart features. There are three such open platforms that are available listed as follows: JooCart, AceShop and MijoShop. Each one includes the pros of both shopping cart tools and CMS and some drawbacks as well such as in terms of versions that are integrated and extensions that can be used.
What is Mijoshop?
MijoShop is that powerful shopping cart component that is feature rich and user friendly; it is a turn-key ready shopping cart and e-Commerce component for Joomla websites. It has a built in intuitive admin interface which allows you to exercise complete control over your store and prepare detailed sales reports. It features are –
Hundreds Payment Gateways and Shipping module integrations are made available.
Over 6000 extensions (other than themes) for OpenCart are compatible with MijoShop –customization of your online shop in order to meet your website ecommerce needs is dead easy!
Products can be featured in a detailed manner with downloadable image formats /compare pricing/features etc.
Overall general management is easy in terms of multiple store/language changes/currency etc. Seo optimization is built in with mijoshop!
You may want to feature reward points/affiliate programs/coupons/recorder system in your website. It simply can't get easier with Mijoshop!
The crucial check out/sales aspect is customer-friendly with single page checkout guest checkout and product return details and printable invoices!
Integration of joomla with open-cart shopping cart platform furthers the prospect of a winning website; this combination of advanced eCommerce functions provided by open cart and easy content management by joomla cannot be more advantageous.