Internet technology has constantly evolved to the advantage of businesses and consumers associated with it. At one point when an anxious lot of business enterprises fought to establish each other presence in the online arena competitively, websites grew towards performing much more than just being a virtual representation of business. Websites have begun to reach out to customers with a direct objective of engaging in buying and selling and this development has lead to the birth of shopping cart software. While once again you are spoilt for choice in the kind of shopping cart software you can use for your web portal, we shall particularly talk about shopify powered websites in this article.
Social media websites- Weave in the presence of your brand in these sites!
Social media sites are those interactive sites which bring people closer; it promotes sharing and discussing of information about each other and their lives, it is a huge platform with posts of personal conversations, pictures, videos and audio files. These web sites aim at bringing individuals and groups together facilitate creation and exchange of content, it is your virtual window to a world of your own people! These websites have transcended catering to individual needs or a group of users to those business enterprises who wish access to a larger potential of clients.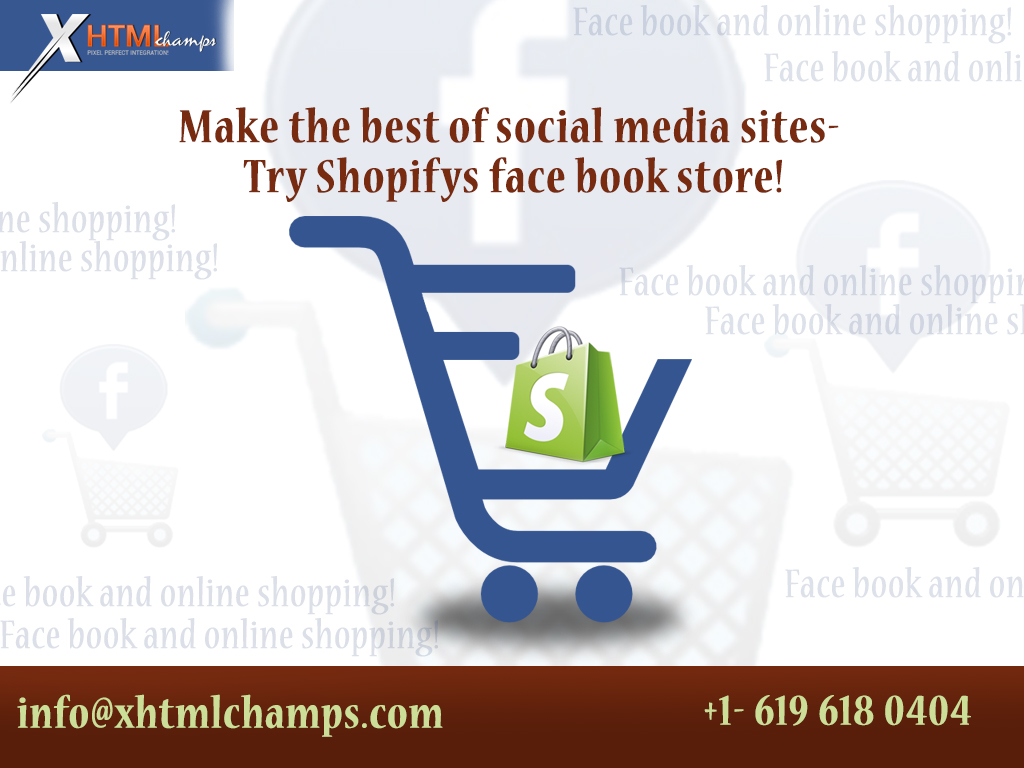 Now irrespective of the size of business, building a brand image has become integral to online success, and the growth of social media sites is a development that needs to be taken advantage of. Active participation in such sites allows you to not only reach a wider audience but also gain repeated cross-platform exposure which brings about familiarity of the brand.
Face book and online shopping!
Shopping options online has been on the rise particularly on social media sites and particularly via the most popular of them all – Face book. The most interesting aspect fueling the growth of Social Media is the fact that it allows small businesses equally leverage technology with its bigger counterparts. Social media technology however firmly holds ground on effective communication with customer, the capability of the website to leverage such relationships so as to establish an act of sale. You create a profile of your business on face book and slowly build a community of user via face book.A step ahead online transactions accelerate with a growing or existing relationship between users in your face book profile as well. In the forefront however your business will be effectively able to communicate with customers or prospective ones by means of offering personal responses to customer queries and complaints via its face book page. This creates a sense of respect and loyalty between the brand and the customers helping in process of selling as well as pave way for development of higher social media strategies to meet more ambitious commercial objectives. The following article will justify all that is being said so far http://mashable.com/2011/09/29/facebook-social-shopping/.
Moving on, PSD to Shopify has aided entrepreneurs to focus on carrying on business at large steering away focus from maintaining the shopping portal thus created. It is feature rich and comes with all possible customizations you can ever wish for with built in SEO and marketing features. The range of payment gateways that shopify sites support makes the website a complete shoppers delight!
Facebook store- easy social shop. An icing on the cake!
This particular plug in works on transporting your online store onto your facebook page, it simple adds to all the advantages enjoyed by your shopify store in terms of its performance online. You may want to have a look at the features of this add-on in a nutshell.
The app is free to download.
It is extremely user friendly, in all of three clicks you may flag off selling on face book!
All the updates that are carried out in your virtual store will be carried out on your Face book store as well
Your products are suddenly all over the place- your shoppers may proceed to share products on Twitter and Pinterest as well
Easy of customization of your face book store makes it that much more appealing.
Social media sites work on bringing the user community and brands together, whether or not the actual effect of it on sale and thereby on revenues is measurable however remains largely debatable. The reach and access to users offered by social media is certainly no subject of debate! Elevate your online portal , make your face book page work for you!