Hire a PHP Developer: Now we all know that PHP is possibly the most widely-used general-purpose scripting language preferred for Web development; it mainly serves as a server-side scripting language but it can still carry out other CGI program functions such as collection of form data, aid in generation of dynamic page content, as well as handle cookies. There are a wide range of PHP applications that are used for different applications in websites, the scope of what PHP can offer has extended to a lot more than this indeed. There can be endless customization options which are allowed, tweaks on different extensions available with applications, there are simply endless opportunities on this platform. On the other hand demand for all kinds of web development projects are also increasing with business establishments focusing onto growth online.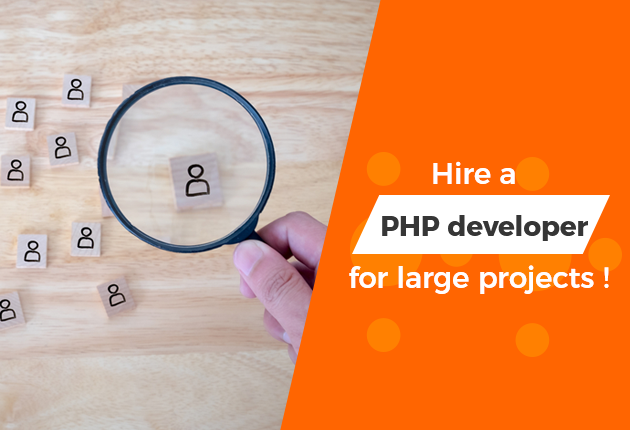 Hire a PHP Developer to Enhance your Growth Online
PHP is one of the most preferred general based scripting languages used globally by developers. It is a server-side scripting language that can carry out various other functions such as form data collection, dynamic webpage content as well as handling cookies. Hire a PHP developer to enable you to achieve a wide range of applications without wasting any time. It is more cost effective and the page can be customized as per request.
Advantages, if you, hire a PHP developer
Build better frameworks.
No extra costs to be meted for designing and developing if you a PHP developer with you.
Saves on heavy expenditure and time.
Regular communication to enable you to address any flaws, cost implications as well as role.
Hiring a PHP developer helps you to identify areas of concern, if any, and guide you through every step of the process. Hire a Dedicated PHP Developer 
While most development companies begin with the expertise of development in a single domain, the assignments progressively extend to different branches of development which would be mostly related to your core competence.  It is exactly here that you feel the need of an external PHP developer who could assist you in such a scenario.
In short remember the following points For Hiring a PHP developer-
An exclusive PHP Programmer can focus and build up better frameworks and web design programs that are highly professional, perhaps in a much more effective manner than an overworked internal team!
Time is money in any business today. Employing a PHP developer or a programmer is highly recommended since it saves a lot of time , you are not needed t o go around in circles looking around for a developer within whose skills may be extended into this as well.
This change can also save costs as there is no additional requirement of infrastructure or payments to designers & developers that are hired on the rolls of your company. There is a lot of money saved on taxes as well; you simply sign a contract with the company that agrees to provide you these services for completion of a specific requirement.
Employing PHP developer or a programmer gives a large amount of exposure to the market overall when you hire a developer from a company outside to carry out a specific part of the project you certainly will make the choice in terms of cost availability of the resource etc. While location would certainly play no role, the indirect benefit in terms of the quality of work, the way the similar requirements are handled in the company other than your own will all serve as learning.
There are a growing number of developers from different developing countries all over. You get the right skill at a much lower cost.
Most software outsourcing companies are ISO certified delivering quality in projects, there is focus on a specific requirement that needs to be worked upon and completed with minimal error.
Companies that undertake such projects also allow you to recruit a development team on a 24/7 cycle, in case of a requirement of an in house team/individual.
  There is a regular communication channel that is established to ensure you always feel connected and for immediately addressing issues that may arise.
 Your project can now stretch across time zones- because now most companies provide you with the freedom of choosing the time in which you need work to be parallelly carried out.  You may pick the time zone which best suits your convenience and monitoring needs.
Overall Project Management is handled ably by the outsourced company: a dedicated manager is assigned to ensure smooth flow of communication between the company and the programming team.

Conclusion
Simply hiring a developer for more specific requirements which falls outside the purview of your development activity not only gives you the image of an all round project development company but also increases your opportunities for growth. Sweat less, identify the areas which need assistance, look for the right skills in a developer work out a deal and simply get it done!