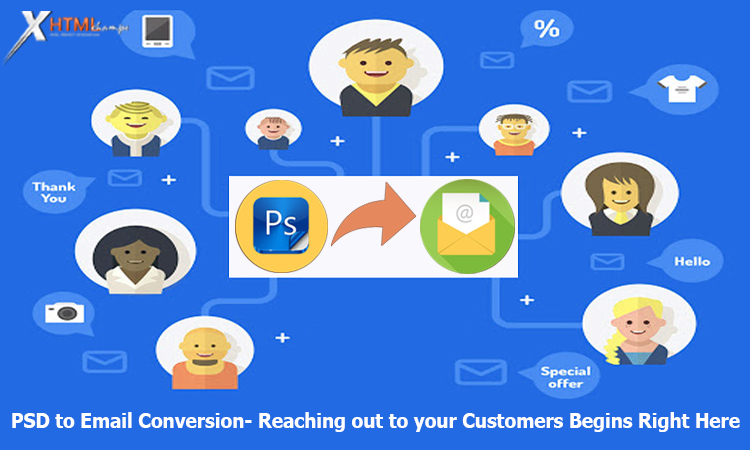 Communication is the key to overcoming most barriers, you would certainly agree with this universal truth! In businesses it has become imperative to establish a strong, long lasting relationship with customers; contributes in understanding consumer behavior and increasing chances of his retention. Business emails flag off one-on-one communication with customers; would it not delight your customer to receive an email with discount offers on his favorite product? You may want to assume that an average bulk email service will do the job for you; but do not overlook the fact that there is a fat chance that these emails become monotonous and end up as spam or trash in your clients bin!
A Customized email system for businesses would definitely facilitate a more specific process of having to reach out to your customers. Therefore establishing this efficient mode of email communication would be to begin with conversion of PSD files to email templates. Now we know that PSD is basically an acronym for the regular PhotoShop file. Despite being able to mimic the look and design of any given format, their main drawback is that they lack functionality. Conversion of PSD files to Email Templates helps convert any PSD design into a highly dynamic and completely functional email template. Here s more, PSD to Email template conversion service adds zing to your regular newsletters too and gives that much needed edge  to your digital communication!
Need more conviction to prove that your business stands to gain by option to convert PSD files to email templates? Read on the following lines.
 Benefits of this conversion-
Creation of customized emails to suit requirements of the business/customer-Any Business is unique; brands make customers connect with the business which is once again unique. The primary focus in the conversion process is to help create that template which will stand out with primary focus on "your" business product/service.
Conversion into email templates can help you address each use specifically as against a common mass mail campaign which gets sent out normally.
Interactive emails aid in holding the attention of your customer; with conventional long emails, there is no two way communication channel that falls in place. Conversion not only ensures that the customers not only view your email but also ensure their responses; the simplest of features in this being a click which will take them to a website which would carry detailed information of your marketing campaign.
This particular conversion technique is highly flexible as you may use your very own desktop email clients such as Outlook and Thunderbird to begin the mailing process. Easy integration on web based email clients such as Hotmail, Gmail, and Yahoo is also possible.
Advanced HTML coding in these specialized emails create an instant feedback module. There would be a notification when a customer views the email and their subsequent actions with respect to the email message. This form of active intelligence on email campaigns serves as a huge advantage given today's break neck competition.
Designing an attractive email campaign in specific to your business not only requires aesthetic sense, it needs to be backed by sound technical knowledge. Conversion of PSD files to an email template puts down that firm foundation your business needs for establishing an appropriate communication network with your customers.