Having a great website is the first step towards building a better brand name for a company. Today, everyone visits multiple websites through different platforms from laptops to smartphones, making it imperative for your website to be cross-browser friendly. Technology has advanced by leaps and bounds, making it absolutely essential to stay on top of the game.
Instead of building unidirectional websites, it is imperative to enhance the user experience by adding a rich interface to your website. PSD to HTML conversion helps to slice and dice the images and use these high quality layers as per your convenience. This will enhance your customers interaction levels, making them proceed further to browse through your website and business.
Xhtmlchamps.com is one of the leading PSD to HTML conversion service providers across industry. Their out-of-the-box thinking and passion for innovation has helped carve a niche for this organization. The advantages that a responsive website offers are unmatched, and xhtmlchamps.com makes this dream come to life.
Xhtmlchamps.com helps to convert your file coded in markup language to a PSD file that is compatible with multiple browsers. Having an online presence is extremely essential for every brand. Easy navigation with striking features, relatable information and crisp content is a sign of a great website. PSD to HTML conversion service helps you achieve this objective to amplify your business presence online.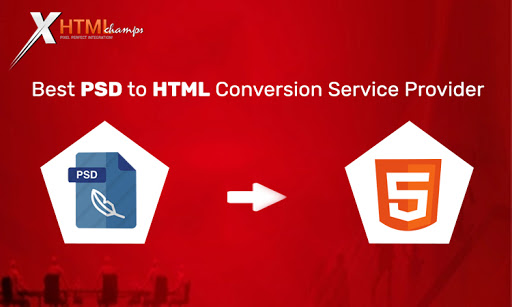 What is the use of PSD to HTML conversion service?
All websites, designed using PSD, need to be converted to compatible web development technologies such as CSS, HTML or even JavaScript. Writing a code is not an easy task, and thus comes the benefit of PSD to HTML conversion.
Easy to work
Working on a PSD file is much easier than making a website from scratch, because what you perceive and what is actually delivered may not be the same. To avoid such dilemmas later, giving your web developer a PSD file or document to convert to HTML is much more beneficial.
Xhtmlchamps.com is one such company that specializes in PSD to HTML conversion service making your website gain an edge over others.
Visibility
If you want to gain more views and conversions, there is nothing better than having your website converted from PSD to HTML. An attractive and responsive website gains more customers that lead to further conversions. The converted websites are equipped with all the latest HTML standards that make it completely compatible with multiple browsers such as Chrome, Mozilla Firefox, Opera, etc.
Now your existing and potential clients can access your website from any device, anywhere.
Quick loading
A website that is PSD to HTML converted has fewer chances of errors and heavy coding problems. The codes are smooth, which increases the loading time of websites on any platform and any browser. The website is also W3C compatible making it easier to slice and dice the website into different layers, as per convenience.
Lighter the website better is its performance. This ensures that your customers come back again to visit your website and convert to potential buyers.
Budget
Xhtmlchamps.com is known to deliver high quality work within a dedicated time-frame as well as budget. The pricing is quite user-friendly and enables companies to make a quick and informed decision. You can check the quality of the work by looking into past projects and samples.
In order to avail a quick, budget-friendly and high quality PSD to HTML conversion service, xhtmlchamps.com is just the company you are looking for!