Online business became very famous because of its functionality and convenience provided to both the business owner and the customer. E-commerce has become a wonderful theme for maintaining business online and manage selling products by internet options. Maintaining an online store is not easy, and it starts with creating a website that is built up to fulfill all the requirements to manage the eCommerce process.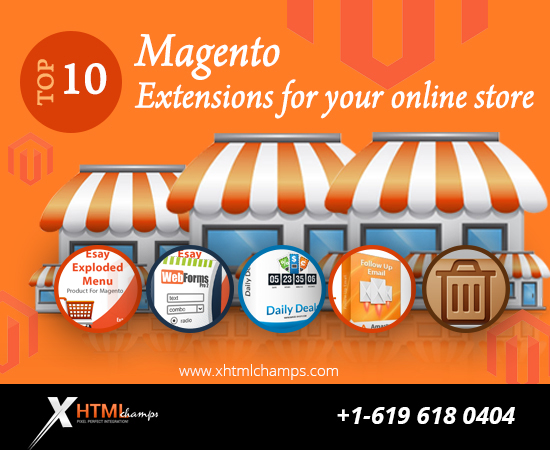 So many things have to set up while building an online store, to manage inventory, updated product information, customer management, and shipping process. All these modules are carried out with special procedures for maintaining everything visually. The backup program execution takes care of database updating, manual shipping process, and financial management.
The complete functionality to maintain online business is provided through Magento software and its extensions. Besides the standard Magento version, extensions are available for customizing online store according to the business requirement for specific reasons. Top Ten Magento Extensions for your online store allow optimizing the functionality by customizing the website with the professional and business-oriented approach.
(a)      Magento WebForms is an extension used for creating custom web forms widely used in website presentations. Every need regarding to eCommerce including feedback, complaints, contact information, comments, and suggestions can allocate on these forms using as widgets at the time of website creation.
(b)    Mouse over Zoom is free of cost Magento extension that allows displaying a magnified picture of an image on the right side of the page. The image is activated when the mouse pointer is taken over it.
(c)     Follow up Email is a useful Magento Extension which auto responds to the customer with mailing system. It keeps track of customers and sends mails regarding to instructions. This software can be easily integrated with existing Magento Module and provide an optimal customer relationship to the business owner.
(d)     Magentix, Recycle Bin is a time saving tool for eCommerce stores as this extension helps to un-delete the mistakenly removed product. The deleted product can be restored or delete permanently from recycle bin depending on the administrative choice.
(e)    Daily Deals is another Magento Extension that allows adding daily attractions for a consumer like discounts and all. Temporary advertising is possible that is interactive to the users and displays the urgent notices concerning the store.
(f)  Magento Live Chat extension is very powerful that provides online chat facility with the customers. It is very advantageous to receive problems of customers, complaints, suggestions, and feedback. Online representatives analyze the customer's conversations to find interactive and immediate solutions. It maintains the satisfaction of the customer and business owner and keeps away the communication gap.
(g)    Exploded Menu is another extension that helps to present menus with a categorized product list. It is very attractive options for display multiple numbers of products on a single page without making it messy.
(h)    Magento C3 Invoice Improver is a basic extension that provides an enhanced format of invoices. So many additional features including Invoices Data, Due Data, Order Data, and other in this easily usable extension.
(j)   Google Content API for Shopping provides better forms of Search Engine Optimization for an e-commerce website. The online store is optimized for Search engine results when searching for a product and is available in the store. It gives a big deal of popularity for the store and makes the business more successful.
(k)   ReCaptcha extension provides security to the online store, forcing the users for entering Captcha code for particular forms. It makes protection to the site without occurring disasters of Spamming.
Top Ten Magento Extensions for your online store explained above are effective to create an online store that is very powerful in business solutions.
For a small business to a larger business, Magento can be chosen to build a powerful online store with taking advantages of its extensions. For developing an efficient website, software must be used that is fully efficient to allow ideal Magento web development. Magento Web application software is an eCommerce platform which is an open source content management system to create a perfect online store.