HTML5 frameworks easily make a website responsive and cross browser compatible. The responsive HTML5 frameworks  come with some amazing features like responsiveness, cross browser compatible, highly customizable and clean code. Developers can use these frame works to build robust and adaptable websites easily. As the framework is not huge, using HTML5 framework does not slow down the speed of the website.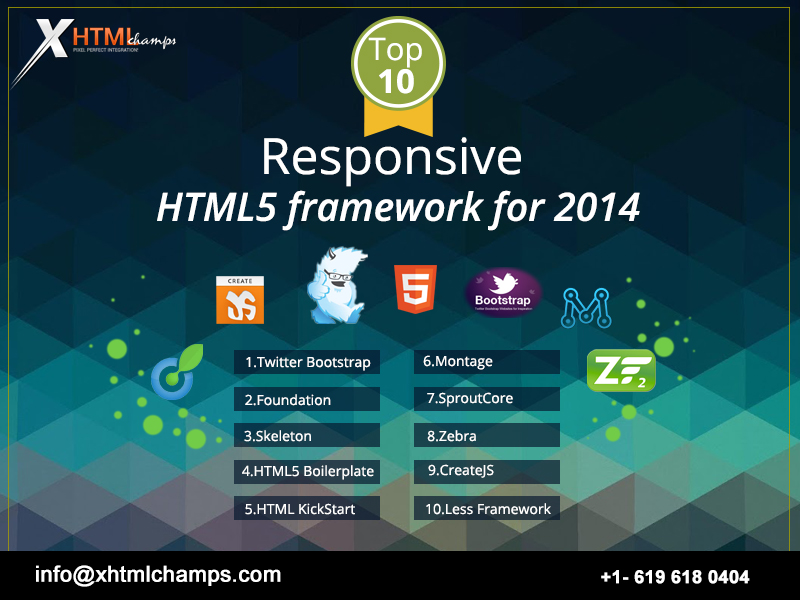 Top 10 HTML5 Frameworks
Bootstrap is one of the most complete and powerful framework front-end toolkit having dozens of fully functional components for creating faster, easier websites and web applications, without any hassles.  Bootstrap is compatible with all latest versions of browsers. It comes with several JavaScript components in the form of JQuery plug-in which provides additional user interface elements such as tooltips, dialog boxes and carousels. Bootstrap is one of the easiest and widely used frameworks.
Skeleton is an open source framework for HTML5 based websites and mobile centered development. It is one among the light weight frameworks. Skeleton is a small collection of CSS files that can help in developing sites quickly and that's beautiful at any size. Some of the notable features of Skeleton are- a responsive grid layout, standard media queries, device specific CSS style properties, CSS class for responsive image elements, PSD templates and HTML5 for old browsers.
Foundation, just like Bootstrap, is a front-end HTML5 framework that consists of several tools that are useful when creating a responsive website. It uses modern practices and technologies. Foundation helps your website load in few seconds because it's specifically designed to be faster for users. It also features smoother transitions and animations with hardware acceleration. This framework comes with a light box plug in and packaged with jQuery slider which allows easy creation of custom forms, easily style check boxes and drop downs.
HTML5 boilerplate helps in building fast, robust and adaptable web apps and websites.  It delivers excellent site performance and independently maintain server configuration. HTML5 Boilerplate is an open source framework for creating cross-browser HTML5 sites with backward-compatibility. This framework gives the developer flexibility to customize and to make their website responsive. It is a mobile-friendly framework.
HTML5 KickStart is a lean and mean package of HTML, CSS, and JavaScript files. HTML KickStart is perfect to start building menus, buttons, placeholders and even slideshows. A set of HTML, CSS, and JavaScript components are integrated with the framework that is time saving.  HTML KickStart enables the user create a HTML page layouts including components for buttons, lists, menus tables and more, making it perfect for wire frames.
Montage is an open source HTML5 framework used for building scalable and maintainable HTML5 applications. Developers can create reusable user interface components and modules, bind properties among components and controllers, and synchronize DOM queries and updates to ensure a smooth user experience. Montage also has a feature called Blueprints for associatively binding metadata onto your app objects — a pretty skillful function for dealing with lots of dynamic page elements.
Zebra is a rich UI open source framework. It ushers a fresh view and possible new web based alternative to flash and Applet technologies. Zebra enables the developers hone their creative skills in applying new views and ideas in developing a WEB based rich UI applications. When this framework is used, plug-ins need not be installed at the client end. This framework also utilizes the power, simplicity, and beauty of JavaScript coding.
Create JS is a suite of open source JavaScript libraries and tools used to create rich interactive HTML content. It is composed of PreloadJS, TweenJS, Zoe and EaselJS. It facilitates animation effects as well as audio to your website.
Less Framework is the latest front-end responsive HTML5 framework for designing adaptive websites. It consists of 4 layouts and 3 sets of typography presets, all based on a single grid. The only measures that change from layout to layout are the number of columns and the width of the outer margins.
Sencha Touch is a high performance HTML 5 mobile app frame work. Its rich features include GUI based components for use within the mobile applications. All the components can be themed according to the target devices. Sencha Touch is the only framework that enables developers to build powerful apps that work on iOS, Android, BlackBerry, Windows Phone, and more.
Most of the web developers are moving towards HTML5 frame works for its incredible features such as better security, flexibility, SEO advantages, efficiency and the ability to adapt to the various needs of my clients.