E-commerce owes its popularity to the Internet. Internet is a widely used asset, used by people globally. It has brought a revolutionary change in the minds of people. This is an era of convenience. People want to buy everything from their homes. Net savvy consumers are finding online shopping more comfortable and easy to operate and forward-thinking business owners have unleashed a wave of innovation that is improving the economics of e-commerce and started re-organizing their businesses. They are ably supported by some of the notable e-Commerce platform such as: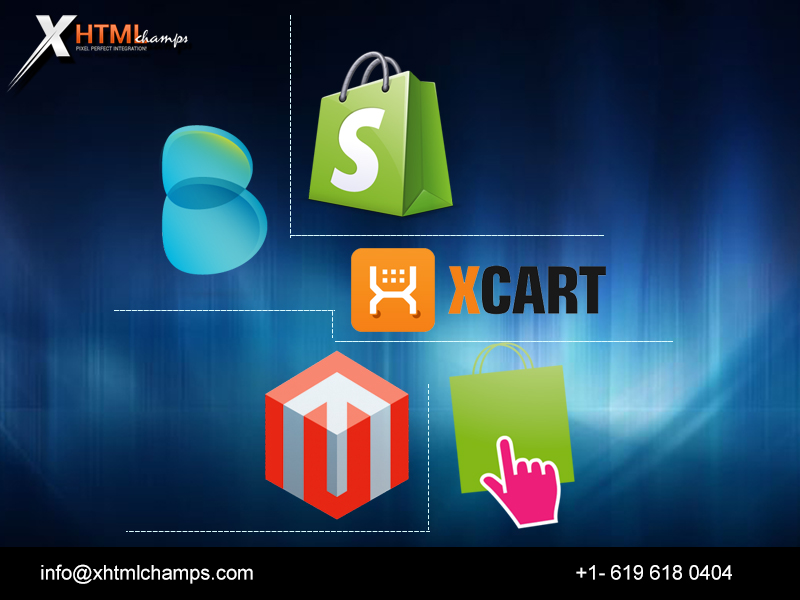 Top 5 eCommerce platforms
Shopify
Shopify is a leading e-commerce platform mostly popular among the retailers. This is extremely easy to use. All the technical details such as setting up host, installing software, handling scaling and performance are taken by Shopify itself. It extends 24/7 customer support. Customers can choose from over 150 of themes and Apps available at their theme and App store.
Notable Features:
•      Impressive and updated themes are provided to build your online store.
•      All stores on Shopify are fully hosted and have easy to navigate admin panel.
•      Shopify provides an affordable, reliable and a secure shopping cart solution for e-commerce business.
•      The shopping cart also allows you to accept credit cards and PayPal payments by integrating with over 50 payment gateways.
•      Security of customer's data is taken care of by SSL certificate.
•      Unlimited band width is included in all pricing plans.
•      Can be easily integrated with shipping carriers, drop shipping companies.
•      Shopify offers an abandoned cart recovery feature to send reminders to customers who didn't check out.
Magento      
Magento is a feature-rich e-commerce platform built on open-source technology that provides online site owners with unprecedented flexibility and control over the look, content and functionality of their e-commerce store. Its intuitive administration interface provides powerful marketing, search engine optimization and catalog-management tools to give users the power to create sites that are tailored to their unique business needs. It is designed to be completely scalable and backed by various support networks.
Notable Features
•      Provides images for products, options for extensive reviews, wish lists as part of product browsing.
•      Facilitates easy navigation, advanced product filtering systems and product comparisons.
•       Easy and secure maintenance of customer accounts such as order status and history, e-mail and RSS feeds for products in the wish lists, newsletter subscriptions, default billing and shipping address.
•       Various payment methods such as: credit cards, PayPal, Authorize.net, Google Checkout, checks, money orders are integrated. It also supports external payment modules like Cybersource, ePay, eWAY and many more.
•       It is 100% SEO friendly and is supported by Google sitemap
•      Supports coupons, discounts and various other promotion options as a marketing strategy.
•      Provides one page checkout, SSL support and checkout without having an account.
Prestashop
Prestashop is free and open source software committed to provide the best shopping cart experience to both the buyers and sellers. It has over 310 dynamic features which can be installed as well as uninstalled with a click of a mouse. As these features are integrated with the software, it is 100% free.
Notable features:
•      Prestashop's incredible Admin interface lets users manage the product lists very easily.
•      Displays product in a unique way and thereby providing the customers numerous options to view their desired products.
•      Prestashop provides one-click upgrading facility to empower site owners to edit content, manage product displays, and change languages in order to keep the online store running at the latest version.
•      It is SEO friendly.
•      Prestashop's one page checkout eases purchasing process.
•      It allows flexible shipping modules and is fully integrated with major carriers.
•      It is integrated with PayPal and Authorize. Net as payment options.
•      The integrated customer service feature will centralize all messages from various sources.
Big Commerce
This platform is very favorable among retailers and young start ups. Big e-commerce allows users to launch professional store within short period of time. It offers vast number of additional add-ons which can be integrated with the online store.
Notable features
•      This platform is reliable, affordable and easy to use.
•      Provides unlimited product storage and bandwidth.
•      Big commerce has easy integration with eBay and Google shopping.
•      It is Mobile friendly
•      Provide 24/7 customer support.
X-cart
X-Cart is a PHP/SQL based secure ecommerce building tool. It includes customized website design, comprehensive inventory management and essential security features. X-Cart to build an online store separate of its hosting.
Notable Feature
•       X-Cart is the only PCI and DSS supportive software that can run on that can on the user's server.
•       X-Cart offers full design and customization services, plus logo and web-graphics creation.
•      With X-Cart software, multiple languages and currencies for international sales can be handled.
•      It is also mobile-responsive for customers who shop using smart phones and tablets.
It is very important for business organizations to have their presence on the global network. It becomes easier to add or make any changes to your company and product related content virtually in a matter of couple of hours, publish on your site and share with the whole world. Scope of growth in sales and profitability increases as online transactions are done 24/7 and 365 days.