Your choice of a Content Management System (CMS) will be your first step in heralding growth, adaptability, and capability of your website to ensure technological changes in the internet. Given a dynamic economy which paves way for businesses to grow at an increasing pace, large sites with complex hierarchies and functionalities have taken over the web driven by powerful content management systems. Needless to mention, your choice of a content management system plays an important role in the performance of the business website on the internet.
While the internet is a plethora of different kinds of websites such as simple home pages, blogs, online newspapers, e-commerce websites and educational websites, there are different kinds of content management systems that cater to need for each website depending on the scope of performance required of the website. For instance, Magento is that kind of content management system which is built to power e-commerce web sites. WordPress is more suited for blogs.
What is Typo3?
TYPO3 is a PHP based open source CMS (Content Management System) which is built to power and manage websites of all types right from small sites to providing multilingual enterprise solutions for large conglomerates. TYPO3 was structured to be flexible, it comprises of modules for each functionality. The TYPO3 Core of the base system serves up web pages immediately with out of the box support extended to page hierarchies thereon. It allows you to efficiently handle your website with unlimited support on page related attributes such as images forms and just about any multimedia element.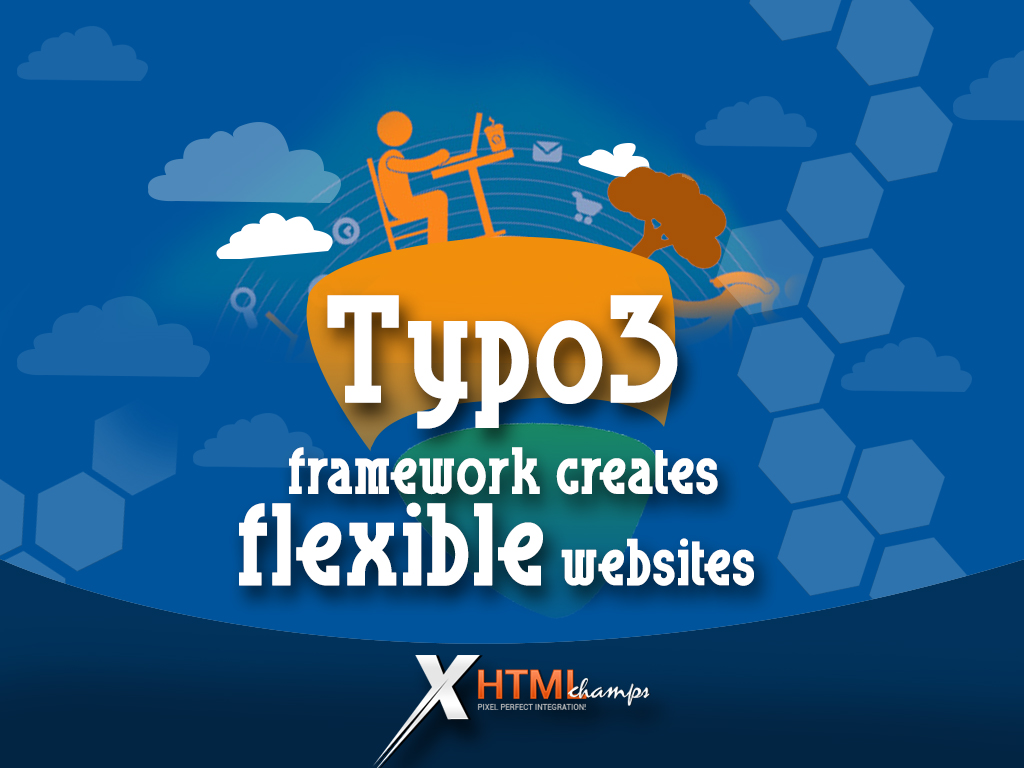 Flexibility is the key- a bundle of benefits based on flexibility for your website-
The performance of a business is subject to a lot of changes on a day to day basis, ever increasing competition and a dynamic economic environment being reasons for the same. The website will need to necessarily adapt itself and grow with the business so as to bring about uniformity in growth and enhanced revenues. The benefit offered by TYPO3 begins with the support it extends for change to be accommodated on the website. Read on for more such benefits-
TYPO3 offers a range of over 2000 extensions right from the ability to add image galleries, shops, news, address databases, discussion boards and such finer features to be added to the website. It also supports connectivity with systems such as LDAP, mailing lists, e-commerce, etc. Of course installations of such add on features, you add corresponding functionality to TYPO3 while retaining the power of the TYPO3 core and functionality added by any other extension on the website. Thus with Typo3 there can be a blog, a front end shop, support section, file repositories under a single roof. Thanks to the backend support of the CMS!
A scalable architecture is yet another benefit offered; once again it complements a changing business environment and a consequent growth in the website.
TYPO3 has an API-driven extension framework which lets developers extend functionality and also add new types of content elements by making use of standard programming practices like MVC (model-view-controller) design.
TYPO3 is supported by a large community of both users and developers who make it possible to find support for bugs, a bulk of documentation, tutorial videos, and books are also available in multiple languages.
With TYPO3 you have complete access control over everything to do with the administration; there can be as many administrator users as you may wish for. You may also assign non-administrator users, who will be granted specific permissions to perform only their specific tasks.
TYPO3 comes with lots of types of content which are optimized for the superior presentation of content. Text or text with the image can be created; the image can open in a separate window when clicked thus bringing out an easy enlarge-on-click feature. As far as editors are concerned there is only a check box that needs to be turned on to enable this feature. All attributes in a web page such as tables, forms, and multimedia are being made available with this kind of tuning possibilities thus contributing to an incredible degree of control over overall web site appearance.
TYPO3 offers the same amount of flexibility to the developer and the user alike. When you know a lot weighs on the performance of your website along with the growth of the business; TYPO3 should certainly be your choice of a content management system!