The website design industry is emerging the area very widely across the globe. The time has dramatically changed that designers use simple and dynamic design and update after a long time, but the trends in 2015 and beyond you look for your website with highly sincerity as discussed.


In this highly competitive tech industry, all things generally move so fast, really fast. Web Design, as well as development, is not an exception. You can ask anyone in this field, who are not aware about the fact. Commonly changes should be done according to the demand of the market or the trends in web design and development as per the clients' demand. So, we have tried to jot down some essential things in web design that can help you to look ahead from 2015 or beyond. Whether you have already realized those changes, then we are looking forward to move on the present year trends in Web Design.
When we try to discuss the changes to Web Design, we certainly look over the past few years that the common look, the most popular look of the online world has pretty formal for designers as well as developers. So let us have a brief look at the Top Web design Trends 2015.
Web Pages with Rich Backgrounds
It is one of the under used components hope you have heard of Web Design. The majority of websites used contend in a simple dark front and the background remains white. Here you are missing one thing, i.e. your visitors' attention. But in recent times the trend has been changed and many website owners are using background images to make a deep attraction for the visitors. This background image should be simple, effective and see if it impulses to the buyers, which must be the connection to the products or services.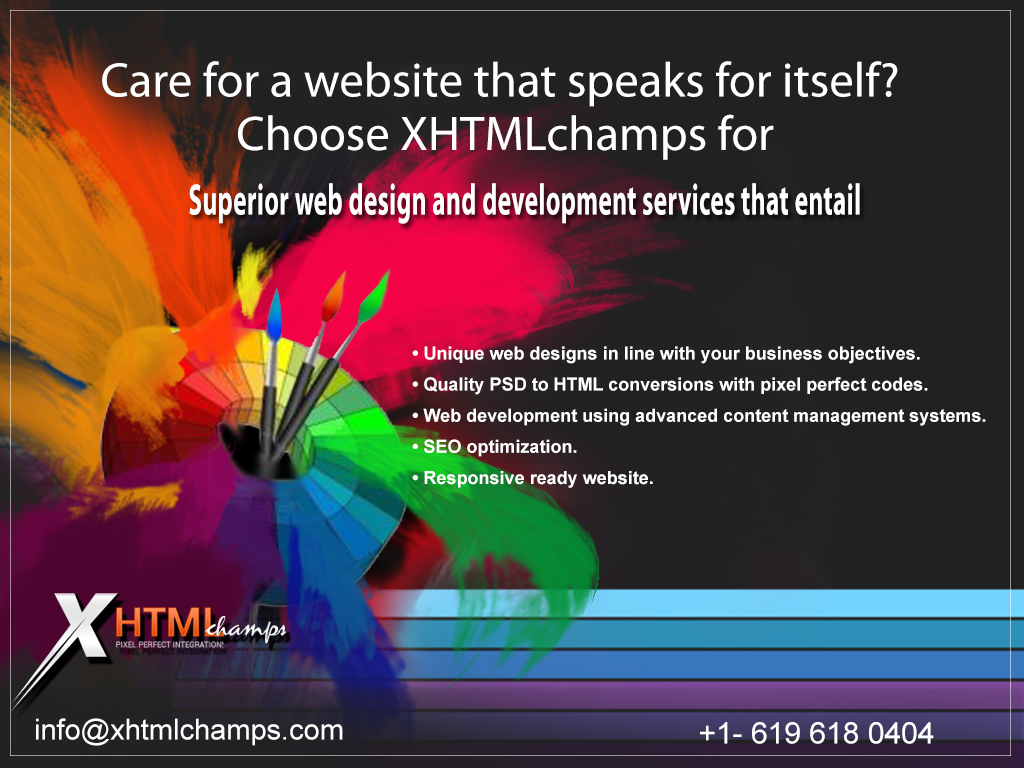 One Page Scrolling in preference to Clicking
Try to scroll your site design such a way the user or visitors can get all your company information on one page. This will help your site design to grab the visitors' attention. Having multiple dropdown tabs, navigation menus should be avoided. The one page website can provide the sophisticated and effective user experience. Plus, you can offer your interactive storyline to the visitors through one page website scrolling directly.
Bright Future
The above mentioned two topics are just a few examples by which you can understand the trends of designing in the coming twelve months and beyond. But for making a bright future, you also take care of retina display for higher resolution and for a better browsing experience on the tablets, smartphones and HD monitors, material design for a richer effect, etc. Moreover, you may work in the field of materialistic design where you can add or remove a new or extra layer and slim gradients to provide an attractive look as well as an impact on your website design.
Coding on Web sites
There was a pretty good time when code by HTML and CSS was only enough, but the situation has changed dramatically. These tools now become more sophisticated and advanced so you need to look at that also. So you need to work on with it properly, you cannot underestimate the value of coding.
Inserting extortionate and professional photography on the website
The days are gone by when stock imagery only had ruled on the website. Though, the trend of stock imagery still exists, but in a minimal way. Professional as well as customized photography engages more visitors at a time and it raises the popularity of your website than earlier. Even your website will be unique in looking with customized photographs than the other websites and no one able to have these identical pictures on their belonging sites.
Trend of responsive website designing
Design your website with the responsive website designing to get more viewers in a short while. At present technology interchanges time to time. Using on the web is not limited till the boundary of the computer now. Online marketing now takes place through mobiles, tabs and Smartphones. So creating a website with the responsive website design will allow your website to be fitted in various screen size with its all features and can offer excellent browsing and shopping experience to the viewers any time.
You know a highly creative design provides everybody a chance to pick their business among the crowd. Changes are happening and becoming. We as creative designers always look forward to best design, development, and implementation. Whether you have not modified your website in the past few years, then it is the time to change and updates, and make sure you do update the mentioned features.