PSD is the base design of your website which needs conversion services in order to get launched on the online web world. The increase in the use of website the conversion needs to take place in such a way that it should not affect largely your original PSD designs. There is a lot of coding involved in such conversion services and so here there is need of looking for professional services. In PSD to WordPress conversion services, you can get good templates but you need to think about good code generation and cross browser compatibility.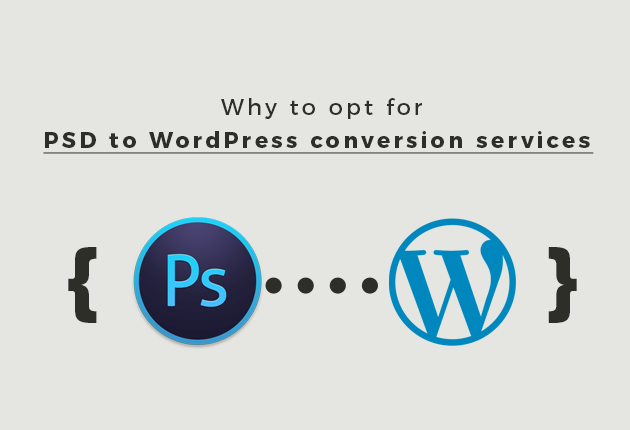 PSD to WordPress Conversion for Professional Websites
WordPress is probably one of the most preferred open source CMS in the market today. PSD to WordPress conversion is quite popular amongst developers offering instant solutions to businesses to enhance their scalability. This provides a user-friendly, high-quality interactive website that leaves an impact on the audience instantly.
PSD to WordPress conversion allows for many themes to be developed seamlessly on the platform. This helps in creating a pixel perfect website that is appealing to the audience. By investing in this service you are benefitted in the following ways-
Easy navigation of websites.
Great looking website that leaves a lasting impression on the users.
Enhanced cross-browser and cross-platform compatibility.
Cost effective services that requires you to pay, at times, only for the specific job carried out.
SEO friendly along with semantic coding to help you secure a great SERP ranking.
PSD to WordPress conversion gives you space to design your own images and use them in the website, using simple methods with high technical developing expertise. Hire a dedicated PHP Developer

Good code generation for PSD to WordPress conversion
The original look of your website should not change with the change in the browser and so you need to ensure while carrying on PSD to WordPress conversion services that you get pixel perfect code. Error free code is something where none of the components change their original placements and this can be done by the professional service provider and not just by roadside website developer. While looking out for such conversion services do not just believe on words but go through the understanding of technical details which service provider has.
PSD to WordPress conversion with Cross browser compatibility
Access of website via different browser should not be a difficult process for the common user. With the change in browser user should not find it difficult to browse website then whether it way be Chrome or Firefox. You can also look for a latest version of IE, Safari or Opera. While handling website main aim should be to gain maximum visitors and this is possible if your website is easily browsed without any technical error. You just don't need visitors but you need visitors to visit your website again and again. If cross browser compatibility is not good then no visitor will turn back to you. So make sure while using PSD to WordPress conversion services you maintain the feature of cross browser compatibility.
Why to opt for PSD to WordPress conversion services
Some of the other basic reasons you need to opt for PSD to WordPress conversion services are:
• You can gain decent templates which can assist you in maintaining existing visitors.
• From your conversion service provider gain hand coded system.
• W3C system is always favorable for PSD to WordPress conversion.
• Depending on the value of SEO you need to gain such conversion services.
• You can gain such services at affordable rates if you make appropriate research.
• Always look for perfect conversion so that browsing can become easy.
• Semantic coding is advantageous for gaining quality visitors.
• It can validate with XHTML.
• Fast turnaround service can allow you to gain conversion at a faster pace.
The company providing you these conversion services needs to be professional enough to gel with all kind of technical needs. Good amount of dedication and skill can take you far ahead in the online world. The ultimate need of conversion service is to make browsing easy for users so that in online world you can gain powerful existence. Do not compromise on technical aspects while looking for PSD to WordPress conversion services. Get the best and you will gain the best!