XHTML Champs, one of the leading PSD Conversion Services, provides successful conversion of PSD to HTML and integrates it into Drupal, WordPress and Joomla. In addition, eCommerce deployment is our other specialization. We remain as the best web design and development company providing services to clients all over the world.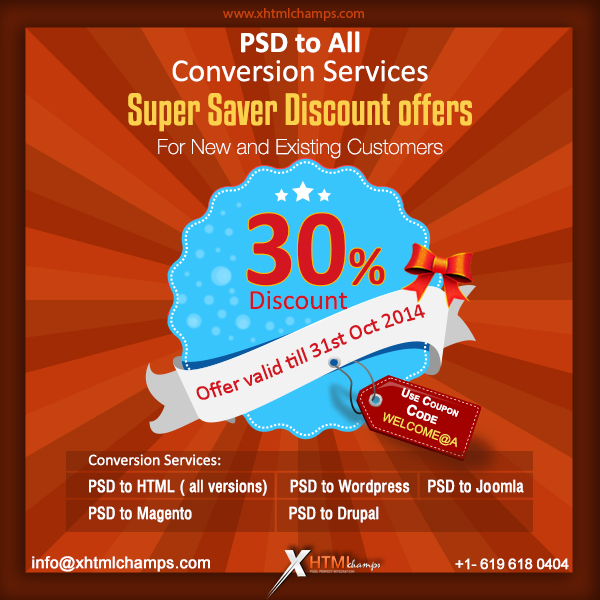 October 07, Hyderabad(India) –  For the successful performance of a website, the quality of the coding is the main underlying factor. Error free coding is very essential for smooth functioning of the website. XHTML Champs ensures this with all types of browser setups. Efficient slicing of the PSD files and the execution process leading to perfect HTML coding can enhance the overall website quality.    For the month of October, new and existing clients enjoy various offers and discounts from XHTML Champs. As a welcoming feature, we offer 30% discount on all our services with a money back guarantee and 100% satisfaction guarantee. Our price range starts from $45 to $400 according to the service.
A specialized and trained team is the backbone of our company and to maintain the status of the team always has a sound one, they conduct regular workshops and training. Some of our services include:
PSD to HTML or XHTML conversion
PSD to HTML5 conversion
PSD to WordPress conversion
PSD to Zencart conversion
PSD to Magento conversion
PSD to Drupal conversion
PSD to Joomla conversion
PSD to Email conversion
PSD to X-Cart conversion
PSD to OScommerce conversion
PSD to Shopify conversion
PSD to V-Bulletin conversion
PSD to Prestashop conversion
With all these conversions and integration experiences, we have succeeded in establishing a global presence serving clients from more than fifty countries.
Xhtmlchamps has well adopted ourselves to the latest HTML5 and the CSS3 versions. These versions allow the websites to integrate the audio and video files directly and hence it is very helpful for the average user.  Moreover, the usage of these latest versions enables faster loading of the websites irrespective of the media features and this in turn saves the battery life especially with the mobile devices.
'Responsive' is the recent buzz word that dominates the world of web. People hooked with only the desktops belong to past scenario. Nowadays, people use laptops, tablets, notebooks and mobile phones for browsing the web. This has compelled the web developers to adopt uniformity in designing the websites otherwise the 'responsive' feature. XHTML Champs are experts in dealing with PSD to Responsive web design conversions.
For Business, apart from possessing a website to represent their business, they rely on emails for marketing. Developing the best email templates and the PSD conversion to Email templates are one of the excellent features of XHTML Champs. Moreover, to accommodate the increasing usage of mobiles, we also expand to developing mobile templates and PSD conversion to mobile templates.
Web site development largely depends on popular CMS platforms such as WordPress, Joomla, Drupal, and Modex.  XHTML Champs specialize in utilizing these platforms with proper PSD conversions and web design features. We design according to these CMS platforms and have earned 100% satisfaction from their clients.  Moreover, the other important integration is the eCommerce features and platforms such as Magento, Zencart, Shopify, Xcart and OScommerce in which XHTML Champs show superior handling.  Forum integration of phpBB, VBulletin, BBpress and other forum platforms also are easily handled by them. For Super saver discount offer coupon visit @ http://www.xhtmlchamps.com/offer
About XHTMLChamps:
XHTMLChamps started in 2009 as a PSD conversion service provider, has gradually grown into a conversion provider of any format into web compatible formats and seamlessly integrates them into the CMS, Mobile apps, and eCommerce. Visit our Website @ http://www.xhtmlchamps.com